Community Pharmacy Assistant (NEW)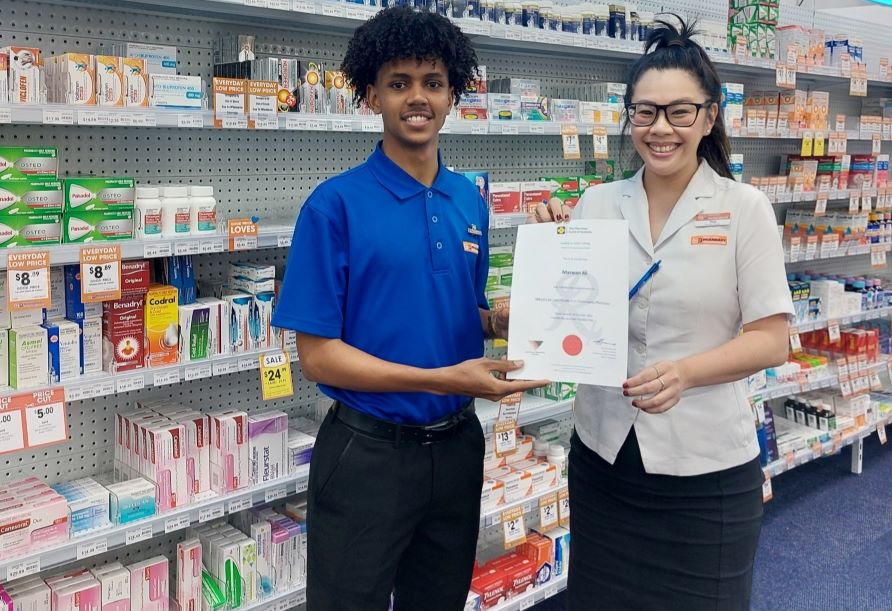 Name: Marwan
Job: Community Pharmacy Assistant
Location: Brisbane, QLD
"Do not be afraid to try new things!"
---
Why did you choose this field of work/job?
I chose a career in this field because I want the type of work where I get to make a positive difference to people's lives. Coming from a non-speaking English background, it was my priority to translate medication labels to my parents when going to the pharmacy and I was also assisting my parents with blood glucose monitoring devices throughout my teenage years. When I started my traineeship in the same pharmacy that my parents went to, I realised this job role is something I'm very passionate about.
What tasks does your job include? What do you love about your job the most?
As a Community Pharmacy Assistant, I work under the supervision of a pharmacist to prepare medicines, advise customers on non-medical products and assist in stock control. Being a Pharmacy Assistant trainee demands a high level of attention to detail in a setting that moves quickly. Maintaining composure and concentration is crucial because errors can be expensive. One of the things I love as a Pharmacy Assistant is the feeling of accomplishment you get from knowing that by simply performing your job, you've made someone feel better.
What was your study journey to get this job?
Through my school's VET Office, I was given the opportunity to apply for this traineeship. A few students also applied but it came down to two students. After I found out I was one of the two students selected for the traineeship, I attended a trial session that went on for nearly a month where I came into the pharmacy one day a week. This is where the opportunity came down to one of the students. I was accepted into the next stage of the enrolment which included an interview where a few people were present in including my school's VET Officer, MAS ambassador and the Pharmacist (Store Manager). The interview involved sign-up information including the duration of the traineeship which was one year and the 375 hours of paid work placement. I completed my course with The Pharmacy Guild of Australia.
What are your future plans for work and study?
My future plan is to become a pharmacist. This is a decision I have come to since I completed my traineeship. My plan from here is to work towards a university degree in pharmacy. My certificate II in Community Pharmacy will allow me to get a part time job while I'm studying at university.
What is one thing about your study and/or job that you would love to share with people considering this career?
Students who wish to begin their careers with a head start into the industry should seek opportunities such as traineeships and apprenticeships through their school VET Office. These programs can be the beginning of your career, providing you with skills and a qualification for the future.