Business Administration – CQ Health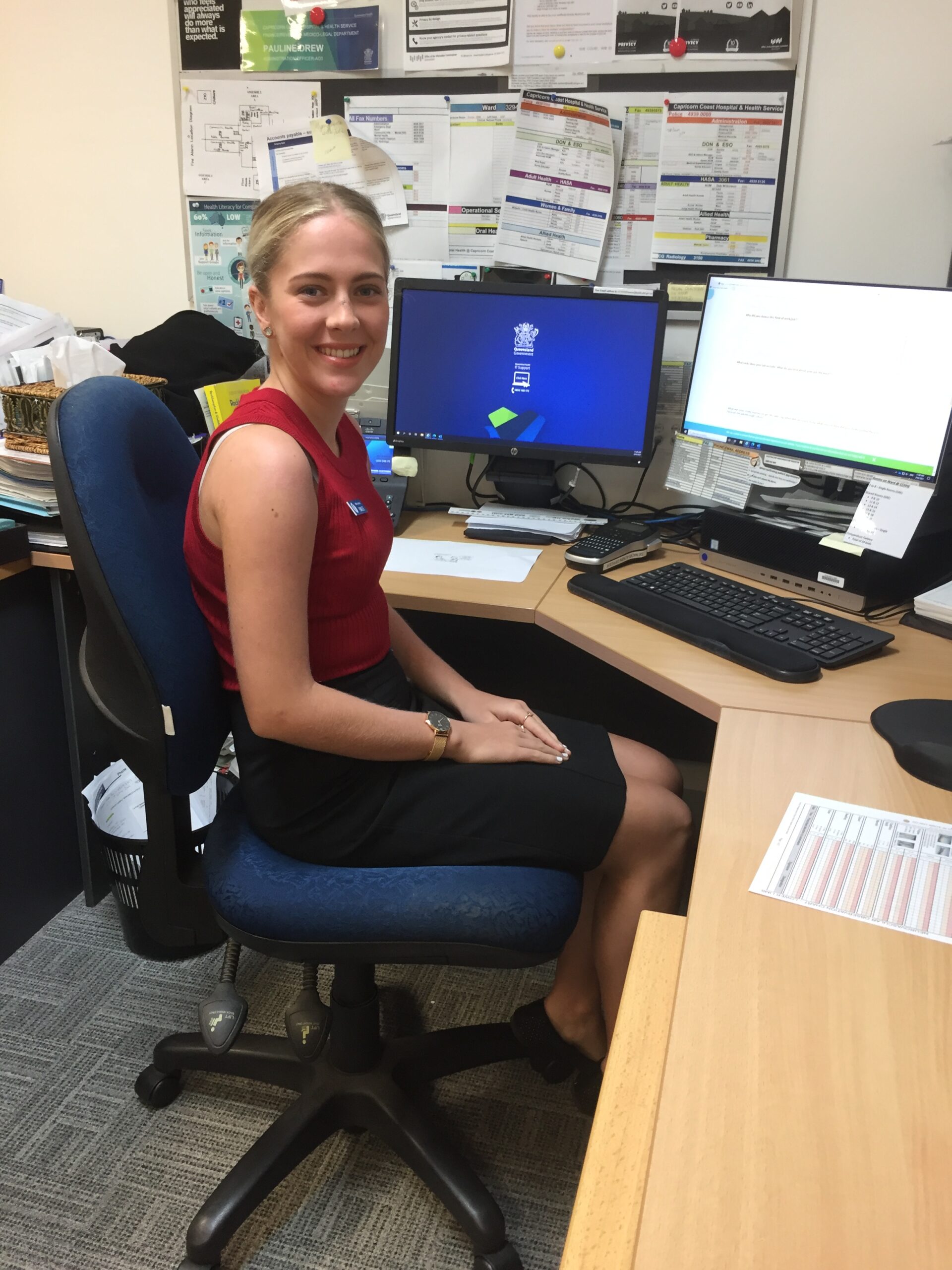 Name: Emilee
Job: Business Administration
Location: Yeppoon, QLD
"It is a very interesting and enjoyable job, providing many great opportunities and experiences."
---
Why did you choose this field of work/job?
I chose this field of work as I have always had an interest in the business field. My job involves working with a diverse range of customers and employees each day who challenge me in my role as a Trainee in Business Administration at Yeppoon Hospital. Working at a hospital has been a great experience as I get to interact with health workers and other admin staff. Business Administration is a job which allows you to branch off into different areas of work which is one of the reasons I chose this occupation. This job provides me with multiple tasks including; filing, faxing, retrieving charts from Medical Records, laminating, photocopying, mailing and much more. It also involves; financial management, communication and negotiation, problem solving, networking, delegation and good time management skills. I find this job interesting and rewarding as it has given me the opportunity to step outside of my comfort zone and interact with community members and other co-workers. This job has given me the chance to take on new tasks and develop the skills and knowledge needed for the business world.
What tasks does your job include? What do you love about your job the most?
Working as a Trainee in Business Administration at Yeppoon Hospital involves a range of on hand tasks. These tasks include; providing office support, keeping well organised files and records of business activity, ordering stationery and other supplies, sending faxes and emails, keeping computer databases up to date, photocopying, printing, binding, invoicing, answering phone calls and much more. What I love most about my job is that it provides a variety of tasks which keeps me occupied and interested. I also enjoy working for Queensland health as I get to interact with customers and other health workers.
What was your study journey to get this job?
I was completing Year 12 at St. Ursula's College Yeppoon when I came across the opportunity to do a Certificate 3 in Business Administration at Yeppoon Hospital. I applied for the job straight away through school and was fortunate enough to be awarded the position. During the beginning of my traineeship I was working at the Yeppoon Hospital once a week every Thursday during the school week. I had allocated study periods at school for my traineeship. I completed my studies online through CQ University and the teachers were very helpful and quick with giving feedback on assessment pieces. This traineeship involved many challenges and I had to work hard to complete each task, however, it was all worth it in the end and I can now say that I have learnt and developed new skills that I can use in the future.
What are your future plans for work and study?
My future plans are to continue to work for Queensland Health at Yeppoon Hospital after I finish my traineeship and work experience. I then hope to be trained as a fully qualified Business Administrator, working in medical records and in the front reception office. I also hope to be working casual/part-time in the next few years whilst completing a Bachelor of Speech Pathology at CQ University. I enjoy working in Business Administration and want to continue the job whilst studying.
What is one thing about your study and/or job that you would love to share with people considering this career?
The one thing that I want to share with those who are considering a career in Business Administration is that the job at times can be very challenging, however, it is also rewarding as it provides many opportunities to expand into multiple areas of work including; working in reception, finance revenue, medical records and out in the Emergency Department. Each business that you work for provides different workplace standards and procedures as well as values and ethics which allows for growth and change of individual workers. Working in Business Administration allows you to be in contact with a broad range of people, within and outside the community. This can at times test your own capabilities, however, in saying this it is a very interesting and enjoyable job, providing many great opportunities and experience. In Business Administration, tasks are endless, creating a fast paced environment at times yet it is still achievable, which is what I love.