Assistant in Nursing – Aged Care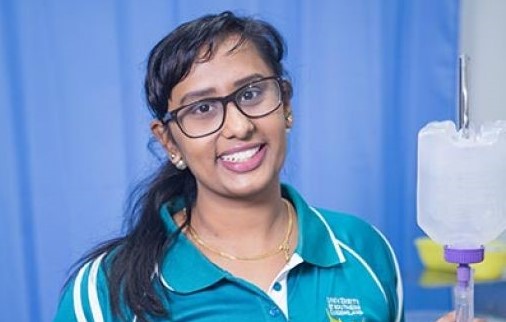 Name: Angel
Job: Assistant in Nursing
Location: Bluecare Carramar, Sunnybank Hills, QLD
"I personally love helping people and being an extra hand."
---
Why did you choose this field of work/job?
I personally love helping people and being an extra hand because I can understand that at certain times of life you are not able to depend on yourself therefore an extra hand is important for them. At the same time, my mother is my inspiration to become a nurse because she is a clinical nurse. When my mother underwent surgery at the hospital when I was young, the nurses who helped my mother opened my eyes to this field of work and realised it is something I would also like to do.
What tasks does your job include? What do you love about your job the most?
As an AIN at the aged care facility Bluecare Carramar, I have to assist the residents with their activities of daily living (ADLS). What I love about my job is that I get to work with the elderly because this is the stage when they need that extra hand and I believe I am fulfilling one of my goals of being a nurse. At the same time, I love the staff that work with me who are very enthusiastic and fun to be around. Here I do not need to hide my "inner enthusiasm" either because they are just as enthusiastic as me therefore I am myself at this workplace.
What was your study journey to get this job?
After graduating from Sunnybank State High School in 2020, I was accepted into the Bachelor of Nursing at University of Southern Queensland. I underwent my first placement at Bluecare Carramar and it was a very pleasant experience. Considering I did my first placement there, I applied at the facility and underwent an interview and training thereafter.
What are your future plans for work and study?
As I mentioned, I'm studying to become an RN so at the moment that is where I am heading. After my studies if I have plans for further study I will pursue that as well.
Another one of my future plans, is to work in Queensland Health after I graduate from university.
What is one thing about your study and/or job that you would love to share with people considering this career?
Studying for Nursing is not simple. In fact, this career is not everyone's 'cup of tea'. It takes dedication and commitment. However, this career is a great pathway as nursing is a career that can take you anywhere and I would like to consider this career as 'opportunity diverse'. From my personal story, I am showing that while studying for nursing, I can also work in the healthcare field which enhances and broadens my perspective about nursing and working with people in real life situations.